At Broadmere we want all pupils to THRIVE, ASPIRE AND ACHIEVE.
Special Educational Needs
Broadmere Primary School is an inclusive environment for children to thrive in. We are wholly committed to supporting all children to learn effectively and look to celebrate all children's achievements, regardless of ability or difficulties.
What are Special Educational Needs?
According to the SEN Code of Practice 2014, a child has a learning difficulty or disability if she or he has significantly greater difficulty learning than peers of the same age or a disability that prevents the child from having access to the curriculum and facilities provided for others in a mainstream setting.

Children may also be considered to have a disability under the Equality Act 2010, which defines a disability as a 'physical or mental impairment which has a substantial and long term adverse effect on that person's ability to carry out normal day to day activities.' The Act defines 'long term' as lasting, or at least likely to last twelve months.
This can include specified medical conditions, such as multiple sclerosis, asthma and cancer. Children with these conditions may not necessarily be considered to have SEN, unless they require special educational provision to meet the curriculum above the adjustments, aids and services required by the Equality Act.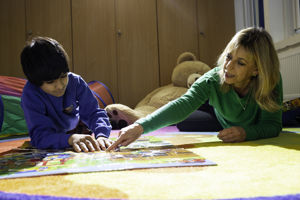 SENCO: Gemma Webb
Early Years SEN Practitioner: Sharlene Chipling
Governor for SEND: Fazilath Nazir
SEND Information Report 2022-2023
Visit the Surrey Local Offer Website